Synthesizer Printed Circuit Boards
TH-201 "Mankato" Voltage-Controlled Filter / Oscillator / Slew Limiter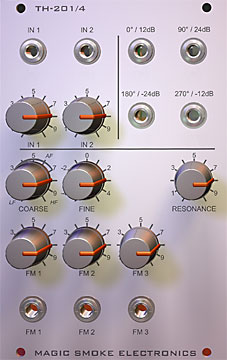 TH-201/4 Mankato (rendering).
[
VIEW LARGER
]
Designed by well known synth DIY guru Thomas Henry, the TH-201 is a low-pass VCF with some unusual operating modes. Magic Smoke will be producing printed circuit boards (PCBs) which can provide up to eight outputs. With the Resonance control turned all the way up, these filters will self-oscillate, operating as multi-phase LFOs or VCOs.
Both DC-coupled and AC-coupled inputs are available. The DC-coupled inputs allow the TH-201 to operate as a voltage-controlled lag processor (slew limiter). All outputs are buffered and have standard 1k impedance.
The Mankato covers a very wide frequency range: from around 0.011Hz (90 seconds per cycle) to 22kHz without range switches. Changing the timing capacitors can provide extended low frequency operation. You can certainly build your Mankato with a range switch, if that's your preference. Isn't DIY great?!
The PCB is available for do-it-yourselfers. It is not difficult to build compared to other synthesizer modules, but Magic Smoke does not recommend this for your first DIY experience.
TH-201/4 configuration

12 and 24 dB/octave outputs
inverted 12 and 24 dB/octave outputs
90 degrees of phase difference between each output
quadrature sine/cosine oscillator
TH-201/8 configuration

6, 12, 18, and 24 dB/octave outputs
inverted 6, 12, 18, and 24 dB/octave outputs
45 degrees of phase difference between each output
8-phase sine wave oscillator
Documentation

PRICING and AVAILABILITY
TH-201 PCB (printed circuit board). 4" x 5" (102mm x 127mm), double-sided, with blue solder mask. Meets RoHS standards.
Can be used to make /4, /8 or other configurations.

Revision 3 boards are in-stock and shipping.

Boards are US$20 each. Shipping and handling charges are shown, below.


SHIPPING and HANDLING
Quantity of PCBs
Destination
1 or 2
3 or 4
6 to 8
US / Canada
$3.50
$5.50
$7.50
EU / UK / Aus
$6.50
$8.50
$10.50
Other
Please inquire.
Shipping and handling charges apply to the
total quantity of PC boards in the shipment.


Send your PayPal payment to magsmoke@gmail.com. Please contact us to pay by check or money order.

stg/soundlabs offers front panels and finished modules in various formats.

Bridechamber offers MOTM-style front panels and other DIY parts.


Subscribe to Smoke Signals and we'll keep you posted. We promise not to share your e-mail address with anyone else.
Specifications and prices are subject to change.