Synthesizer Parts
Synthesizer Printed Circuit Boards
TH-101 "Sheboygan" 566-based Voltage-Controlled Oscillator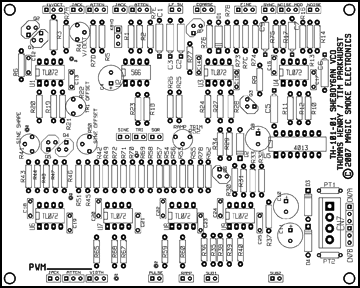 TH-101 Sheboygan PCB artwork (top)
Meet the Sheboygan!
Designed by famous do-it-yourself synthesizer guru Thomas Henry, the TH-101 is a voltage-controlled oscillator (VCO) based on a nearly forgotten integrated circuit: it is a 1V/octave response VCO built around the 566 VCO chip.
A companion to Thomas Henry?s Making Music with the 566 VCO book, this PCB has all the waveshapers from the book and has the following features:

Sine, Triangle, Square, Pulse, Ramp, -1 suboctave, and -2 suboctave outputs, all available simultaneously.

Noise source for "tuned noise source" modulation.

Two exponential FM inputs with attenuators.

1V/octave CV input.

Hi / Lo range switch. Hi (audio) range is roughly 1.8Hz to 18 kHz.

PWM input with attenuator.

Exponential response with good tracking over approximately 4 to 5 octave range.

Sync input.

Note: The only departure from the 566 book is in the Saw waveshaper. The sawtooth shaper shown in the 566 book is interesting but changes the frequency of the output. You also lose the Tri and Sine outputs with that circuit. Because of these reasons, we instead adapted the tri-to-saw circuit used on the LM VCO in Thomas' "An Analog Synthesizer for the 21st Century." This waveshaper works much better, and is easy to trim for proper operation.
If you want quadrature square waves, use the Square out and the Pulse output (Pulse Width set to 50%). Of course, setting the pulse width to something other than 50% allows you to change the phase relationship between the square and the pulse (might sound neat for clocking two sequencers, or two sample & hold units, or ???).
The PCB is available for do-it-yourselfers. It is not difficult to build compared to other synthesizer modules, but Magic Smoke does not recommend this for your first DIY experience.
TH-101

Founder
chanel replica
founded the Chanel brand in Paris, France in 1913.
replica gucci
wide range of products, including clothing, jewelry and accessories, cosmetics, perfume, each product is famous, especially her
hermes replica
and
replica bags
. Chanel is a famous brand with more than 80 years of experience. Chanel fashion always has elegant, simple and exquisite style. She is good at breaking through the tradition. She successfully pushed the
fake bags
of "Five Flowers" to simple and comfortable in the 1940s. This is perhaps the earliest modern casual wear.
Documentation

PRICING and AVAILABILITY
TH-101 PCB (printed circuit board). 4" x 5" (102mm x 127mm), double-sided, with blue solder mask. Meets RoHS standards.

TH-101 Revision 1 boards are in-stock and shipping.

Boards are US$16 each. Shipping and handling charges are shown, below.


SHIPPING and HANDLING
Quantity of PCBs
Destination
1 or 2
3 or 4
6 to 8
US / Canada
$3.50
$5.50
$7.50
EU / UK / Aus
$6.50
$8.50
$10.50
Other
Please inquire.
Shipping and handling charges apply to the
total quantity of PC boards in the shipment.


Send your PayPal payment to magsmoke@gmail.com. Please contact us to pay by check or money order.

Subscribe to Smoke Signals and we'll keep you posted. We will not share, give, sell, fold, spindle, or mutilate your e-mail address.
Specifications and prices are subject to change.